I see the glow of the November moonlight/shine through the release of my newest
poetic blockbuster Uhuru- A dedication to the African Povo. Uhuru is
a vivid imagery of the African poor suffering under the gag of decadent
political establishments , a metaphoric mirror for the enslaved writhing under grind of archaic colonial and barbaric neo- colonial imbeciles, a paradoxical literary-keg to free tired voti-zens groaning under the mosquito
like crush of pseudo-revolutionary-democratic yet terroristic war-lordistic
dissidents of peace .Uhuru – the latest classic soon to be trendsetting literary letter-bomb curated/translated from English to German by Germanborn international- prolific arts luminary Andreas
Weiland , edited by renowned German – American literary critic Karen Wittstock and as well creatively
published by the illustrious ,German based international publisher Stonybrook editions
In Zimbabwe,November is the symbol of sacredness-during this African holy month, angels sit
on their realm throne and decide the favour or fate of this earth. They also
say during this same month of the calendar ancestors of each and every clan sit
unto their parliamentary spiritual chambers to decide the verdict of every
tribesmen /women. I have that greatest faith that the November release of my classical
poetry UHURU is my verdict of this
2022 November season- (mbizo chirasha,
author of classical poetry collection, Uhuru).
About thepoetry classic -Mbizo Chirasha's poetry goes beyond what we know as poetry in Europe or North America.
Mbizo Chirasha is above all an oral poet, an "oral poet" who starts out
from the spoken rhythms of the language of the "povo", the common
people – with everything that she can express: all sorrows, all longings, all
hopes. The literary journal Evergreen Review, published by
the renowned New Directions Publishing
house in New York, recentlypublished several of Mbizo Chirasha's
poems. This poet of the "povo" is finally beginning to be noticed in
the centers of the globalized world by readers who are increasingly interested
in world literature.
Author– Mbizo Chirasha was born in Zimbabwe in 1978. He attracted attention at the Harare Lit
Fest for several years because of the quality of his poetry and because of his
commitment. From 2017 he lived in exile for a few years. He is the author of
several volumes of poetry and is widely featured in literary magazines. Among
other things, he was "poet in
residence" in Egypt and Ghana and took part in a literary project in
Tanzania. The volume of poetry "Uhuru"
is his first volume of poetry aimed at a German-speaking audience and
international readership
Uhuru- a dedication of African Povo is translated
/curated globally -profiled Andreas Weiland ,a doyen , a literary champion , a poet who
writes in English and German, as well as an film and art critic and translator.
The collection of classical verses was edited by acclaimed German- American
literary critic Karen Wittstock and
her writings of prowess are published in various respectable magazines
Here are links of the Uhuru- the bilingual poetic
classic
https://www.bod.de/buc…/uhuru-mbizo-chirasha-9783756859955
https://www.amazon.de/s?k=isbn+978-3-7568-5995-5&crid=2L5XD6E9L28Z3&sprefix=isbn+978-3-7568-5995-5%2Caps%2C77&ref=nb_sb_noss
Uhuru Collection translator/curator- Andreas Weiland
Andreas Weiland, poet, occasional film critic and art critic, born 1944( Art in Society Profile) First poetry reading, together with Michael Horovitz, in Bochum in '69. Edited TOUCH, a small literary and film journal (with Steven Diamant) in the late '60s. Its section on the Independent Italian Cinema, included in issue # 3-4, 1969, was reprinted by the LONDON FILM FESTIVAL, thanks to Massimo Bacigalupo… There were also articles on a film by Jean-Marie Straub and Danièle Huillet (the Chronique of Anna Magdalena Bach), a long interview with Stan Brakhage (by P.Adams Sitney), an article by Georg Rudolf Lind on Pessoa, poetry in diverse languages, accompanied by translations into English… Later on, wrote frequently on the filmic work of J.-M. Straub and Danièle Huillet, much of it unpublished but forwarded to the Straubs (own versions largely lost). Excerpts of his film criticism (on Dore O. and on Massimo Bacigalupo) are published online by CANYON CINEMA, INC. (San Francisco) and the NEW YORK FILMMAKERS' COOPERATIVE… And on Pia Epremian (in print) by BIANCO E NERO, and other stuff elsewhere… Edited JIETOU / STREET in Taiwan in the '70s which featured articles on Yao Yi-Wei's play, A Suitcase, on the poet Yang Kwei, several articles on the Cloud Gate Dance Theater, etc. Held many talks on the NEW GERMAN CINEMA (Fassbinder, Costard, Wenders, Dore O. etc.) at the Deutsches Kulturzentrum / Deguo Wenhua Zhongxin in Taipei and at the Taida Film Club (Tien Center, Roosevelt Rd., Taipei)… Wrote pieces of film criticism for INFLUENCE, a film magazine edited by Ivan Wang, and for ARTIST MAGAZINE… Correspondence with several poets (Barbara Guest whose poetry was translated in the 70s, Anne Waldman, several others; with Cid Corman for several decades, practically until he died). Contributed poems to anthologies (UND ICH BEWEGE MICH DOCH, ed. by Juergen Theobaldy (Munich [Beck Verlag] 1977); AIQING DE GUSHI – 300 DEUTSCHE LIEBESGEDICHTE, Beijing 1998…); CRITICA DEL NOVECENTO / CRITICIZING THE TWENTIETH CENTURY, ed. by Massimo Bacigalupo and Anna Lucia Giavotto (Genova [Tilgher] 2001). And to several art catalogues, for instance: Wo bleibst du, Revolution. Freiheit Gleichheit Bruederlichkeit heute. 1789-1989, ed. by Peter Spielmann (Bochum [Museum Bochum] 1989. And: Doris Schoettler-Boll/Dekonstruktionen oder vom Widersprechen in Bildern, ed. by Klaus Honnef, Cologne (Rheinland Verlag and Landesmuseum Bonn) 1987. Poems have again and again been published in various poetry journals (among them Juergen Theobaldy's BENZIN; Mike Dobbie's STREET WORD; the KONKURSBUCH etc.). Wrote a long poem on 'Moses and Aaron' (the film by J.-M. Straub & Danièle Huillet) which Jean-Marie translated & published, in German and French, in an issue of the CAHIERS DE CINÉMA… Having read the ms. of Gedichte aus einem dunklen Land (then still unpublished), Erich Fried wrote (in 1981), "Ich habe schon seit langer Zeit nicht mehr Gedichte gesehen (unveroeffentlichte oder neuerdings veroeffentlichte), die ich fuer so gut und so wichtig halte. Ich meine wichtig, weil sie unsere nicht nur literarische Landschaft bereichern. Dichten ist nicht so sehr eine literarische wie eine menschliche Betaetigung." And Peter Marcuse called his poems "clear, sharp, and didactic" after reading the ms. of Gedichte aus einem dunklen Land. In a letter Juergen Theobaldy recalled that, in a conversation, "Nicolas Born called him (…) a 'naturally gifted lyrical poet' [ein geborener Lyriker]" (quoted by W.Fang).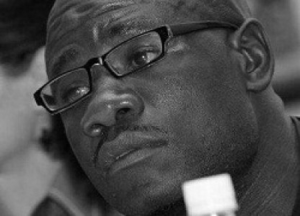 Author of
UHURU–Mbizo Chirasha is the chief -caravanist at Pan-WritersCaravan. head of content at AfricanWilliamBlake.publisher of Time of the Poet Republic, founder at Womaword literary Press. curator/editor of Voices of Africa: A Call for freedom (ihraf.org).co-editor of Corpses of Unity anthology with Kenneth Toa Mala of Cameroon in solidarity with civil victims of
Cameroon. project curator/co-editor of Second Name of Earth is Peace(worldbeyondwar.org) with David Swanson. co-editor of the bilingual German/English digital anthology Street Voices with Andreas Weiland.african contributor to Demer press international poetry anthology series with Hannie Rouweler. World Poetry Almanac poetry
series with Hadaa Sendo of Mongolia.essayist, poet and panafrican editor and
african writivism laureate at ihraf publishes with Thomas Block. live literature hub /word fiesta producer at Sotambe Film and Arts Festival
2019. resident coordinator of All of Africa 100 Thousand for
peace- global with Michael Rothenberg. African Writing Associate with Jamie dedes.com, A poet a day, the
bezine.com with poetry chef Michael Dickel. Oxford School of poetry/Blackwell Pamphlet of poetry with Kirsten Norrie Contributing essayist to Monk Arts and Soul Magazine with Sophie levy Burton. poet in residence of the Fictional Café, an American but pan international writers' space with Jack.B. Rochester. initiating the Canadian international journal to promote
literary diversity, dialogue among civilizations WordCitylit journal Darcie Friesen Hossack. . World
Poetics Circle with SueZhu (China and New Zealand). Resident Curator and editor
of the PoetyNationsAnthology.Creative Director of the Poetry People International
festival -Limassol. Executive Curator/founder Writing Ukraine Prize and Ethiopia
Today Young literary/Writers Development Project 2023.PanAfricanleadership of
the International Human Rights Art Festival. His writings, features, reviews, poetry,
narratives, essays, profiles and interviews are published in more 1000 spaces
across the globe. Chirac works as a Pan Writivismlaureate, literary arts
activism diplomate, African writing associate, anthologizing expert, poet in residence,
Visiting Writer, Human Right fellow and live literature producer. His offing's include,
A Letter to the President, Metaphors of
the Rainbow, Pilgrims of Zame, Whispering Woes of Ganges and Zambezi, Disgrace-land
and the latest Uhuru– a collection of poetry classics.